This incredibly easy 8 ingredient Vegan Gluten-free Cornbread is cooked right in the skillet and is magically moist and delicious and all while being completely oil-free.
VEGAN GLUTEN-FREE CORNBREAD
Thanksgiving is on its way and one of the most beloved side dishes to serve is an awesome cornbread. Not only is this cornbread vegan and gluten-free, it is also oil-free and low sugar! But I promise you there is nothing lacking in terms or taste or texture. It is absolutely the perfect texture and so delicious and moist! Additionally, it is refined sugar-free and all just 8 ingredients.
VEGAN OIL-FREE CORNBREAD
Hard to believe this vegan oil-free cornbread has a buttery taste without any butter or oil. I used my favorite nut to impart a buttery flavor. Cornbread tends to be really dry, so using my regular go-to almond flour just wasn't going to cut it.
I decided to create pecan "flour". Pecans are very oily naturally and impart richness and moisture much more than any other nut. By combing pecan flour and cornmeal, it gave the texture I was after. Worked brilliantly.
It is tender, yet still firm. It holds together and doesn't fall apart in your hands. My hubby who doesn't like cornbread even thought this was yummy. My daughter of course loved it.
DO YOU LIKE YOUR CORNBREAD SWEET OR SAVORY?
Now, it seems everybody is in a different category…..the sweet cornbread lovers and the savory cornbread lovers. Well, I have great news, this cornbread will match either. I used just a tad maple syrup to give it flavor without it actually tasting sweet, but also the perfect backdrop to drizzle some maple syrup or whatever you like on top. It is delicious on it's own, but I confess that I'm a bit of a weirdo, I like a little barbecue sauce on mine on occasion. My husband looked at me sideways when I put barbecue sauce on mine. Hey, I never said I was normal. BUT, looooook at it……
I know, strange, but I've mentioned before that I LOVE barbecue sauce and think that it would taste good on pretty much anything, including cornbread. You should try it.
WHY COOK IT IN A SKILLET?
Cooking it in a skillet not only makes a beautiful presentation, but it gives better edges and a crispiness that I love. It is important to use a well-seasoned skillet, or just simply spray it well with nonstick spray to ensure the cornbread doesn't stick. If your skillet is well-seasoned, you won't need spray. If you are unsure, spray it to be safe! You don't want cornbread stuck to the pan the day of Thanskgiving, now do you?
This cornbread is miles better than any I've ever had. I've tried so many and they were so dry, I couldn't even finish one bite without guzzling half a gallon of water. Pecans to the rescue.
HOW TO CUSTOMIZE THIS CORNBREAD
You could add jalapenos, corn kernels, etc. if you want to. I love a good jalapeno cornbread. If you want it sweeter, add a couple extra tablespoons of a dry sugar. Or simply drizzle some maple syrup on top when serving.
OR, make them as vegan cornbread muffins if you don't have a skillet. Super fast and easy!
WHAT TO SERVE THIS CORNBREAD WITH
OTHER VEGAN SIDE DISHES TO TRY
These are all fantastic for Thanksgiving or any day of the year!
If you make this recipe,  be sure to leave feedback below and share your pic on Instagram or Facebook and tag me @thevegan8 #thevegan8!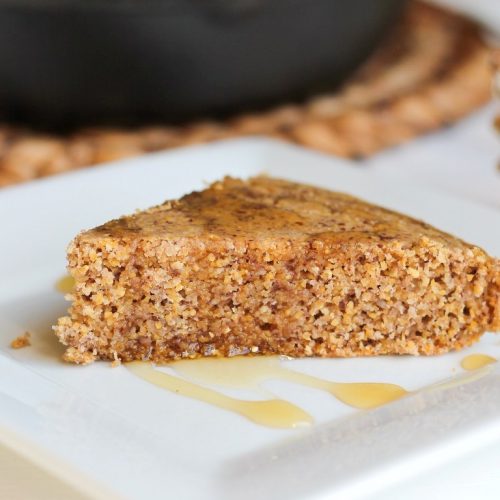 Vegan Gluten-free Cornbread (Oil-free)
This incredibly easy 8 ingredient Vegan Gluten-free Cornbread is cooked right in the skillet and is magically moist and delicious and all while being completely oil-free.
Ingredients
NOTE
Always use a scale for accuracy when baking, following MY gram weights listed. You never need cups, just the scale and bowl.
NOTE
Please note that this is NOT a sweet cornbread. As seen, there is only a tiny amount of sweetener. This is because I don't like sweet cornbread since I like to pair it with savory recipes like chilis and soups. It is only very mildly sweet. So, if you'd like yours a bit sweeter, add 2-3 tablespoons of dry sweetener (not more syrup) to the dry ingredients.
Instructions
First, add your coconut milk to a medium bowl and warm to lukewarm. Add the cornmeal and apple cider vinegar and stir until well mixed. Set aside to soak for 10 minutes. This step is crucial, so don't skip it. It helps to soften the grittiness of the cornmeal and make the cornbread more moist and flavorful.

Meanwhile, you will need to add your pecans to a food processor and grind into a ground coarse meal. This will only take a few seconds, because if you go too long, it will very quickly turn to paste. Just go until it is ground and crumbly and no big pieces left. Add to a large bowl and set aside.

Next, preheat an oven to 400 degrees and place a well-seasoned 10 inch iron skillet on the center oven rack to heat up. If you are unsure if your pan is well-seasoned, then make sure to spray it well with nonstick spray to ensure your cornbread doesn't stick.

To the large bowl of pecan flour, add the oat flour, tapioca starch, baking powder and salt. Whisk until well incorporated.

To the wet cornmeal mixture, after the 10 minute soak, stir in the syrup. Pour that over the dry ingredients and stir until smooth. Scoop into 10 liners if making the muffins, or proceed with the skillet directions.

Remove the hot skillet from the oven and pour the batter in it. Place back in the oven to bake for 15-17 minutes. Just 15 minutes for the muffins. It should be a light golden color, firm top and the edges have pulled away from the pan slightly. Do not overbake or it can turn dry. Note: If you don't want to bother with a skillet, then you can still make this in a regular 8x8 inch square pan, the cooking time should be similar. Make sure to spray the pan well with nonstick. The edges won't get as crispy as the skillet, but it will still be good.

Let sit for 20 minutes before slicing, as it will firm up a lot while sitting. Slice and serve. It will still be wonderfully warm. Eat alone or top with a sweet syrup or whatever you like. I like it by itself (it's that good!) and also with a little barbecue sauce. Store at room temperature in a sealed bag or container to keep them moist.
Nutrition
Serving:
1
slice
Calories:
188
kcal
Carbohydrates:
25.8
g
Protein:
2.9
g
Fat:
8.7
g
Saturated Fat:
2.1
g
Sodium:
105
mg
Potassium:
206
mg
Fiber:
4.7
g
Sugar:
2.2
g
Calcium:
82
mg
Iron:
1
mg