Yes, yes, yes. I'm back with another bangin' sauce recipe. Reader requests keep coming in and I love you all, so I oblige. This nut-free sauce is at the request of a reader who asked that I come up with a red bell pepper sauce that she and her family could enjoy, without the fat and/or nuts. So, obviously I knew what I would do. Funny enough, I already have a creamy red pepper sauce on the blog and it's super popular, but it contains pine nuts which won't work for many people and they are super expensive. I totally changed up that recipe to suit this veggie bowl.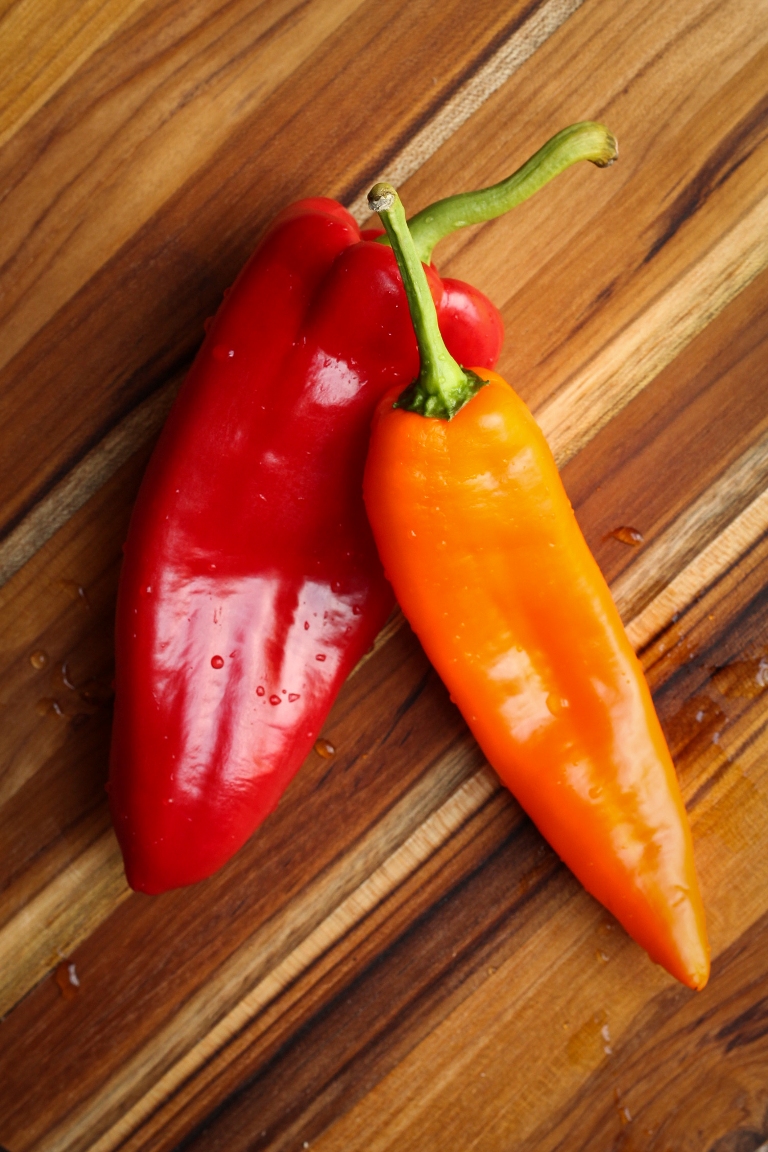 Today's recipe has a little kick too….not too much, just right.
I typically love to go with Mexican flavors when it comes to rice and large bowls like this, but instead I just decided to add whatever the heck I was craving. That just so happened to be some delicious roasted broccoli and bell peppers and some awesome, fluffy rice all slathered with a chipotle red pepper sauce. The sauce is nearly fat-free, making it an excellent choice for health.
You are not dreaming either that this entire bowl is just 8 yummy ingredients (plus salt & water).
Oh, and I finally discovered how to make some amazing fluffy rice in a pot! You know how the rice bags always say to do a 1:2 ratio, with 1 cup rice to 2 cups water?? Well, yeah, that's how I've always done it and the rice always turns out way more sticky than I like. Sticky and goopy. It is a pain to work with. So, for this recipe I decided to forget what that crazy bag was telling me and to reduce the water by a 1/2 cup and voila, the most perfect, moist and fluffy rice! It also cooked in less time, since there was less water that needed to cook down. It turned out nice and al dente, but moist. Not too soft and not too hard either.
I can't wait to hear what you think of this Roasted Broccoli & Rice Bowl with Chipotle Red Pepper Sauce. Drop me feedback below as I love to have it here on the blog connected to the recipe and it brightens my day! I'd also love to see your pic on Instagram. Make sure to tag me @thevegan8 and put my hashtag #thevegan8 in  your CAPTION! For some reason, I have been missing many tags from you guys now unless my hashtag is in your caption….more crazy changes with IG. I don't want to miss it. Thanks!
Roasted Broccoli & Rice Bowl with Chipotle Red Pepper Sauce
Ingredients
For the rice:

1

cup

brown Jasmine rice

180 g Please note that not all rice cooks the same and this method is best for jasmine rice)

1 1/2

cups

water

do not be tempted to do 2 cups like the package says, read my above paragraph. At the most, do 1 3/4 cups

1/2

teaspoon

fine sea salt

1/4

teaspoon

chipotle chile pepper spice

The veggies:

5

cups

broccoli florets

I used a 16 oz (453 g frozen bag, no need to thaw first)

1

large red bell pepper or 1 heaping cup chopped

130 g

2

cups

corn

I used organic frozen, 270 g

Chipotle Red Pepper Sauce:

makes 1 3/4 cups

2

red bell peppers or 2 heaping cups chopped

260 g

1/8

teaspoon

chipotle chile pepper spice

1

tablespoon

coconut aminos

this has sweetness to it which balances the heat well

2

tablespoons

lemon juice

1/4

cup

cooked and packed mashed potato

I used gold, OR use a heaping 1/4 cup cashews, see Note below

1/4

teaspoon

fine sea salt

1/2-3/4

cup

water

depending on desired consistency

Note: Since this sauce is made with potatoes and not nuts or oil

it is a different texture, more light. If you want a creamier, richer-tasting sauce, you can sub the potato for cashews, but you must soak the cashews for a couple hours in hot water prior if you do not have a high-powered blender like a Vitamix, otherwise the cashews may be gritty. I actually loved it with the potato and it tasted amazing mixed in with the whole bowl. It is important to blend up the ingredients with a high-powered blender to get the sauce extremely smooth. It did not work in my cheap kitchenaid blender. Otherwise, use a food processor and really process it for a few minutes to get it as smooth as possible.

FYI: I also tested a batch of the sauce with white beans instead of potatoes and it was nasty. I have to be honest. I could taste the beans and the texture from them

so I wouldn't recommend it. Stick to potatoes or nuts.
Instructions
Prepare the rice first by adding all of the "rice" ingredients to a small pot and bring to a boil. Make sure you are using the right weight measurement so the rice turns turns out with the correct texture. Once boiling, immediately cover and turn down to the lowest heat and cook for 25 minutes. Check it and the rice should be al dente (firm but tender) and all of the water should be gone. If so, turn off the heat and return the lid and let the rice sit covered for 5-10 minutes at the most. The rice should be perfect, moist, fluffy, but firm. If it's a little more firm then you'd like, leave it covered a little bit longer to steam some. Get your potato ready to cook as well at this time if you are doing potato and not nuts for the sauce. I just cooked mine in the microwave, but feel free to cook however you like. I peeled my potato, wrapped it tightly and microwaved it until super soft.

While the rice is cooking, preheat your oven to 415 degrees and finely chop your bell peppers (all 3!) and place them on a parchment lined sheet pan. Keep in mind that 1 of the bell peppers is for garnish for the bowl and the other 2 are for the sauce, so try to space them a bit on the pan so you will have the right amount when making the sauce. Season the peppers with salt. On another sheet pan lined with parchment paper, spread your broccoli out, season with salt and pepper and place both pans in the oven. Place the peppers on the middle rack and the broccoli on the lower rack. Bake for 15 minutes. Your peppers should be tender and starting to brown and the broccoli should be tender, but still firm.

Once the veggies are done baking, add the 2 cups of bell peppers to the blender and reserve the other 1 cup for the bowl. Add all of the other "chipotle red pepper sauce" ingredients to the blender as well. Blend until completely smooth. It should be a nice smooth, creamy consistency. I started out with 1/2 cup water and you can add more if you want it thinner. Taste and add any extra seasonings if desired. Add more chipotle for extra spicy. Slightly warm over the stove just until warm if desired.

Lastly, warm up your corn. The rice should be done by this time. Add everything to serving bowls and drizzle them all with the red pepper sauce and devour! I added extra chipotle chile pepper spice to my bowl for an extra kick right before eating.